The word "casual" can conjure up a myriad of images, especially when it comes to men's clothing. For most guys, casual means "anything but dressed up," and more likely refers to things you would wear at home or doing yard work. You know, those sloppy ill-fitting cover-ups like those worn-through cargo shorts left over from college, or a promo polo the local hardware store once gave away as a summer gift to clients. Well, allow me to reintroduce you to the J.Hilburn custom-made casual experience, where we have captured the modern essence of relaxed dressing that is anything but the aforementioned.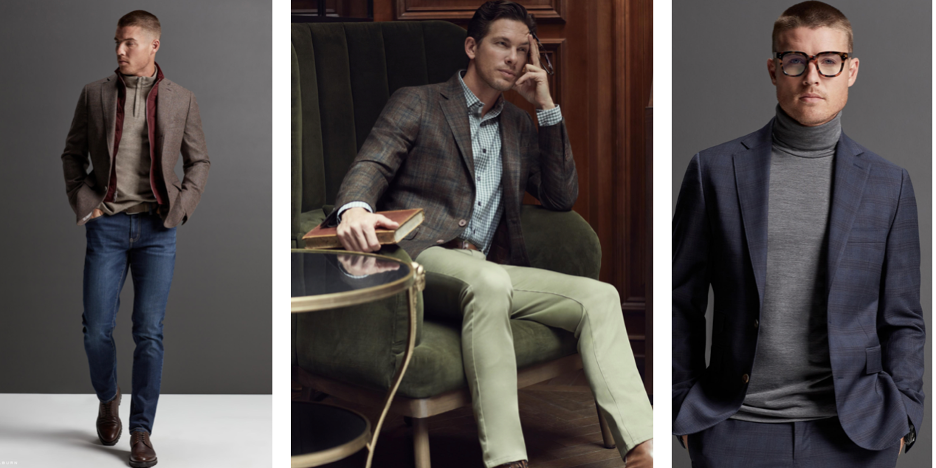 Modern casual style has crept into every modern man's wardrobe with a new polished appearance that makes this side of his closet ready for the boardroom and business meetings, and not at all for mowing the lawn. The modern casual look has, however, made golf attire perfectly suitable for his time on the golf course as well as wearing comfortably for lunch out after the game. The polo shirt effortlessly replaces any dress shirt under a sportcoat while looking both polished and relaxed. The dress shirt itself has softened in styling to include more tech fabrics (our super successful Canclini and Ratti qualities), open necklines, and fun prints rather than serious stripes or classic solids.
Another go-to piece for a modern guy is the 5-pocket pant and its cousin, the chino. These are fast becoming must-have pant styles for in-the-know guys living on-the-go lives where the lines between on the clock and off the clock are ever more blurred. Outfit styling itself has also evolved to incorporate untucked shirts, sockless ankles and even white tennis shoes he can wear with a suit or a short and look perfectly dressed either way.
Versatility is the key word, with guys looking less for work uniforms but still wanting the ability to wear pieces across the old rule book of menswear. This trend started way back in the mid-nineties with casual Fridays introduced into corporate America. Then, through the evolution of tech industries and modern desk work combined with the recent pandemic years, historians will look back on the present day as a time when menswear was evolving into a comfort-driven wardrobe characterized by the fadeout of rigorous categories worn only for one specific type of occasion: suits for work, denim for weekends, etc. The sportcoat itself is worn for many more occasions than just at the club, with guys looking for suits that can be worn broken down and individually outfitted back to other parts of their wardrobes.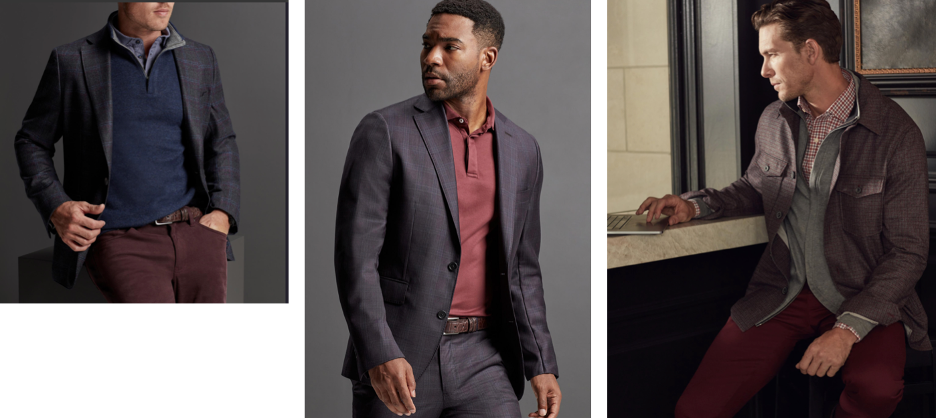 Layering a J.Hilburn knit under a sportcoat, whilst not revolutionary, is made possible through our custom-made approach to fit and preferences. You can create polished styles in wools, cottons and cashmere blends, all with the added performance of stretch technology. Our neck styles can be personalized with button choices for tone-on tone looks, and placket closure options for subtle differences between our polos and all that off-the-rack sameness. The covered placket is one of my personal favorites as it hides the button closure for a clean modern look that you cannot find anywhere else. Collar points that make knits look like shirts are a great option for those who can't let go of a dress shirt look, and you can add button-through fronts and cuff styles that are all borrowed from dress shirt styling.
In pants, it's not always possible to find a 5-pocket pant in a range of chino-like fabrics and performance stretch qualities in every department store's inventory. Then add in the hassle of the hunt for the perfect fit in these pants, particularly for the tall guys and the shorter guys (like me), and the slim guys or rounder guys (like me). The custom-made 5-pocket is an absolute must for most body types that don't fit some algorithmic stock buy of mall shopping—and let's be honest, most of us don't.
This cross-pollination of styling options is the true essence of what I consider modern in a man's wardrobe today, and sharing with our Clients, this evolving modernity should come naturally to all of us. As personal Stylists, we must share and explain to Clients the importance of breaking some old barriers. Perhaps the best method will be to start slowly, offering advice and direction as only a personal Stylist can. Let's ditch those sloppy ill-fitting polos, those baggy jeans and those old cargo shorts, and upgrade into our Clients into custom-made casual. I know they will thank us for it.